Find the balance in your hectic life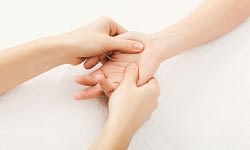 Acupressure is a normal inbuilt mechanism provided in the human body by the creator(Nature) for the treatment of all types of human diseases both physical and metaphysical without the help of any medicine but with the help of pressure or puncture or color or warming  (Moxibation) at a certain point in the human body.
The aim of acupressure is to enable qi ('life energy') to pass through the 14 channels (meridians) within the body. The theory of medicine states that for a person to maintain their health, the continuous flow of qi through these channels is necessary. The body can no longer maintain the balance to cope with health problems if this energy flow is blocked.
According to Gate Control Theory by Melzack and Wall, acupressure at specific point passes pleasurable impulses to the brain at a rate four times faster than painful stimuli. Continuous impulses shut the neural 'GATES' and slower messages of pain are blocked from reaching the brain and helps to improve or strengthen the pain perception threshold of body. Based on the location of stimulation, pressure-generation activates the small myelin nerves in the muscles and pass stimulations to the higher nerve centres including spinal cord, midbrain, hypothalamus and pituitary axis. Magneto encephalography (MEG) studies demonstrated conditioning of primary somato sensory response during the acupressure. In addition to sub-cortical effects on endogenous pain regulation acupressure also exhibits potential for affecting primary somato sensory processing and possibly altering maladaptive neuroplasticity. Auricular acupressure (AA), a micro-acupuncture is a non-invasive technique similar to reflexology in which endocrine functions are improved effectively.
Heals sinus
Effective for shoulder and neck pain
Helps relieve anxiety & stress
Improves sleep
Aids in weight loss
Regulates digestive issues
Minimize headaches & Migraines
Lower blood pressure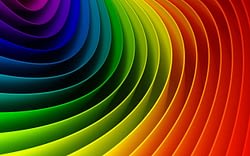 Color therapy (also known as chromo therapy or light therapy) is a type of holistic healing that uses the visible spectrum of light of electromagnetic radiation to cure diseases. It affects one's energy level, mood, appetite, emotions, and physical or mental health as some colors are soothing and some are stimulating. Colors are used to balance the energy level of our body as they have subtle effect in everyone's life mentally, emotionally, physically and spiritually.
Color Therapy doesn't exist individually. There should be a base upon which color therapy can be applied. Colors are used in every therapy whether it is Reiki or Astrology or Numerology or Vastushastra.
In Ayurvedic Acupressure it is believed that whole universe is based on the ten elements among which five physical and five are metaphysical elements. These 10 elements are numbered 1 to 10 and are considered as the energy sources of the universe and each element has their color to increase (Tonify) and decrease (Sedate) the energy according to the disease.
According to Lee and Kim (2013) who examined and measured brain waves to investigate the human body's response to each unique color wavelength, the brain was more activated with Red, Yellow-Red, Yellow, Green-Yellow, Blue-Green and Blue-Red compared with White, Blue and Green. Red, Blue and Green. According to O'Connor (2009), Red is known to be a warm and bright color, but is also considered an intense color is known for evoking emotions.. There are other symbolic characteristics of colors interrelate both physiological and psychological responses. For example, red is a symbol of power, courage, and a revolutionary soul, but is also seen as a symbol of cruelty, anger and violence. Green on the other hand conveys harmony, calm, and balance and is helpful for relieving stress and so on.
Better mental clarity and wisdom
Clear mental fatigue and re-energize the body
Create relaxation and healing
Increase blood circulation
Clear circulatory blockages especially in the back and joints
Soothes emotional stress
Improves concentration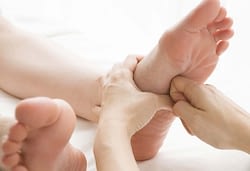 Heals Injury related to neck , feet , hand , joints etc.
It helps to heal certain physical problems such as Blood pressure , asthma , gastric acidity.
Also helps to cure depression, anger, fear and worries up to some extent.
Cures ENT problems
Helps to maintain weight loss
Cures Pediatric diseases
Heals sinus
Effective for shoulder and neck pain
Helps relieve anxiety & stress
Improves sleep
Aids in weight loss
Regulates digestive issues
Minimize headaches & Migraines
Lower blood pressure
Better mental clarity and wisdom
Clear mental fatigue and re-energize the body
Create relaxation and healing
Increase blood circulation
Clear circulatory blockages especially in the back and joints
Soothes emotional stress
Improves concentration
Heals Injury related to neck , feet , hand , joints etc.
It helps to heal certain physical problems such as Blood pressure , asthma , gastric acidity.
Also helps to cure depression, anger, fear and worries up to some extent.
Cures ENT problems
Helps to maintain weight loss
Cures Pediatric diseases