Anti-Cellulite Massage Oil is a luxurious blend of sesame oil and natural herbs. The ayurvedic properties of the oil help in cellulite reduction and deep skin nourishment
25% Off
Regular price
₹

600.00
Sale price
450.00
Unit price
per
Sale
Sold out
(Inclusive all taxes)
Offer Details
• Free shipping on all Prepaid offers.
• Prepaid orders; delivery in 2-4 business days.
• Cash on delivery orders; delivery in 4-7 business days.
• Grab Extra 5% on prepaid orders.
• 10% off on your first purchases above Rs 599. Use Code: MELLOW10.
View full details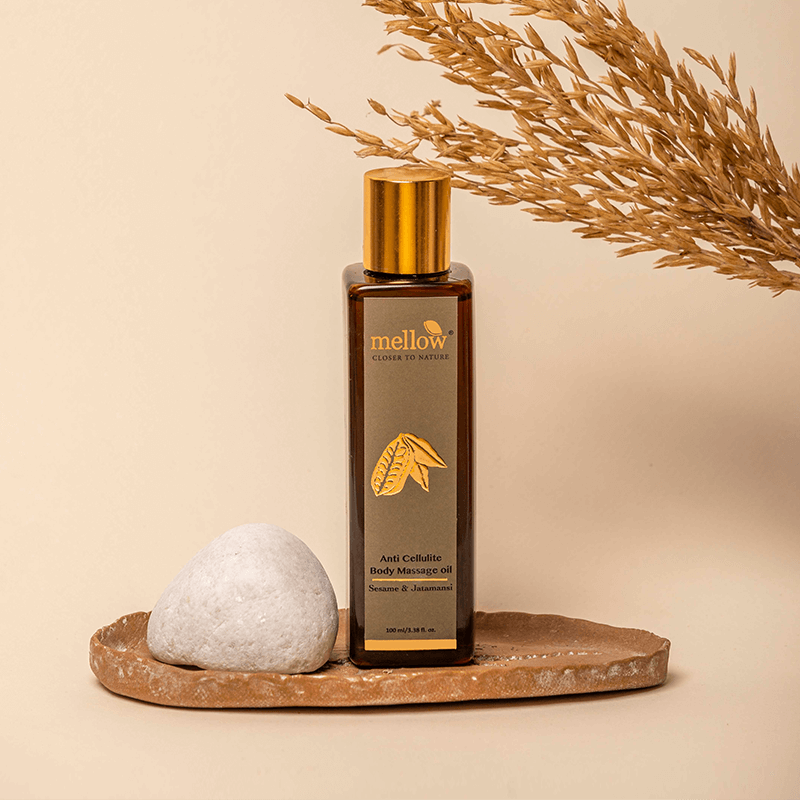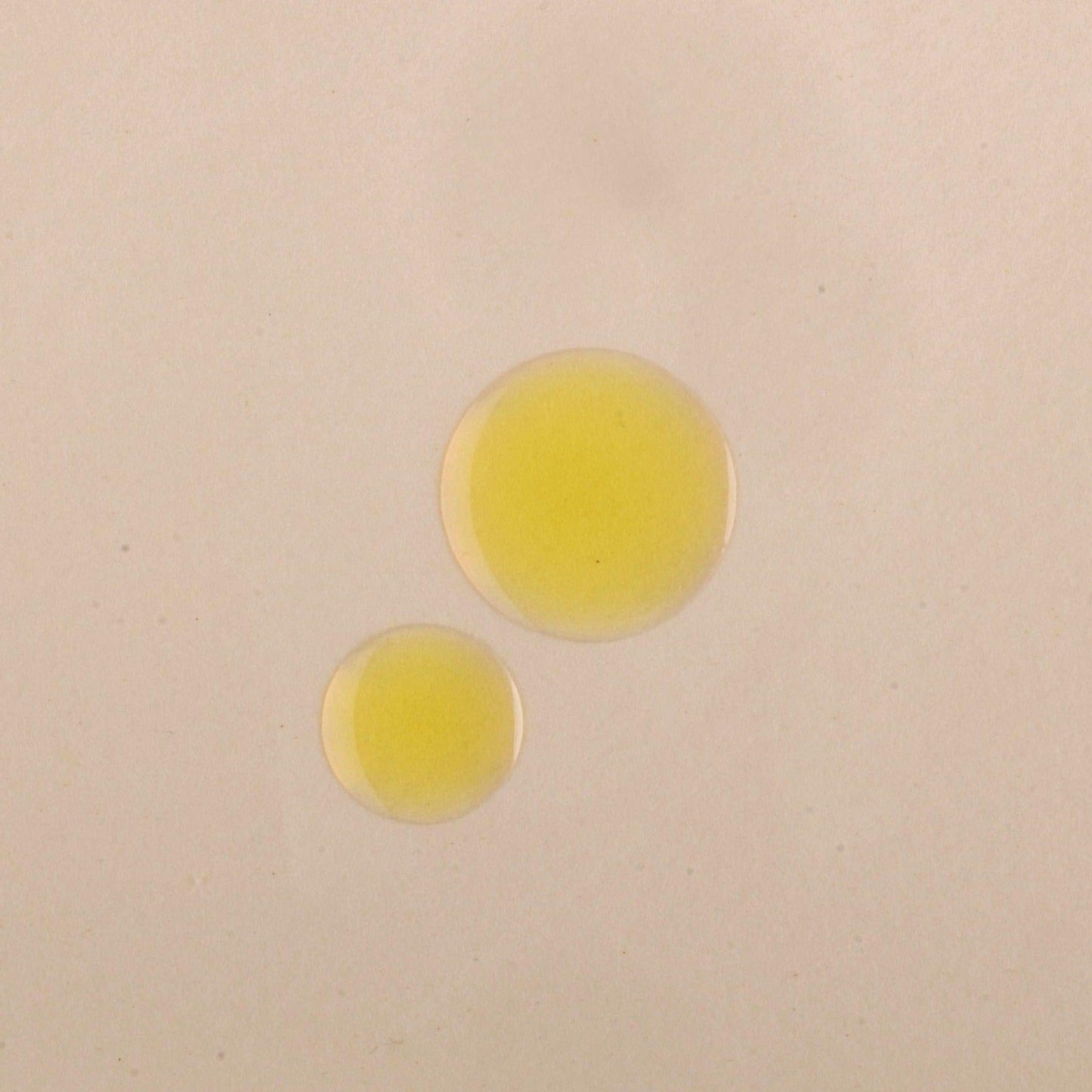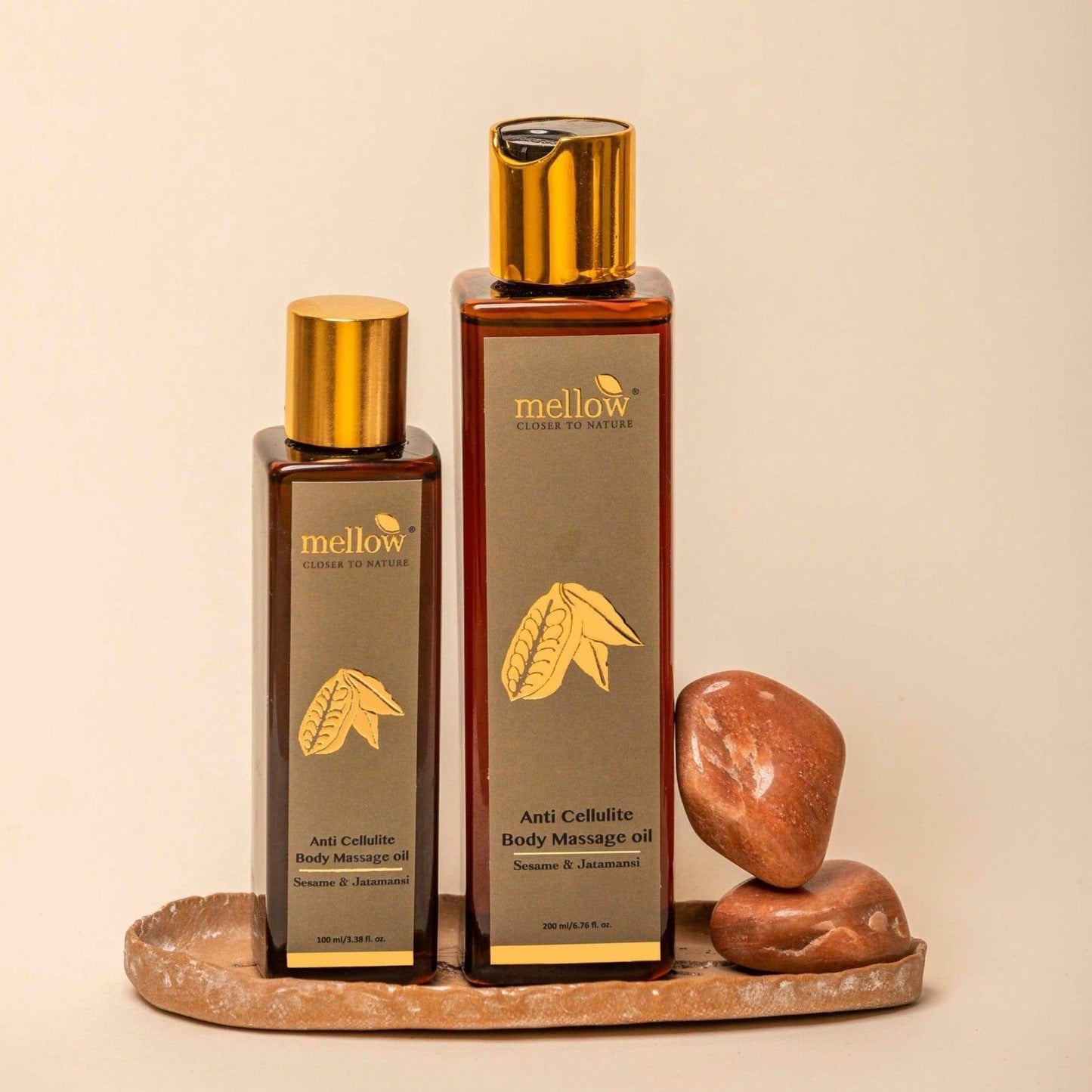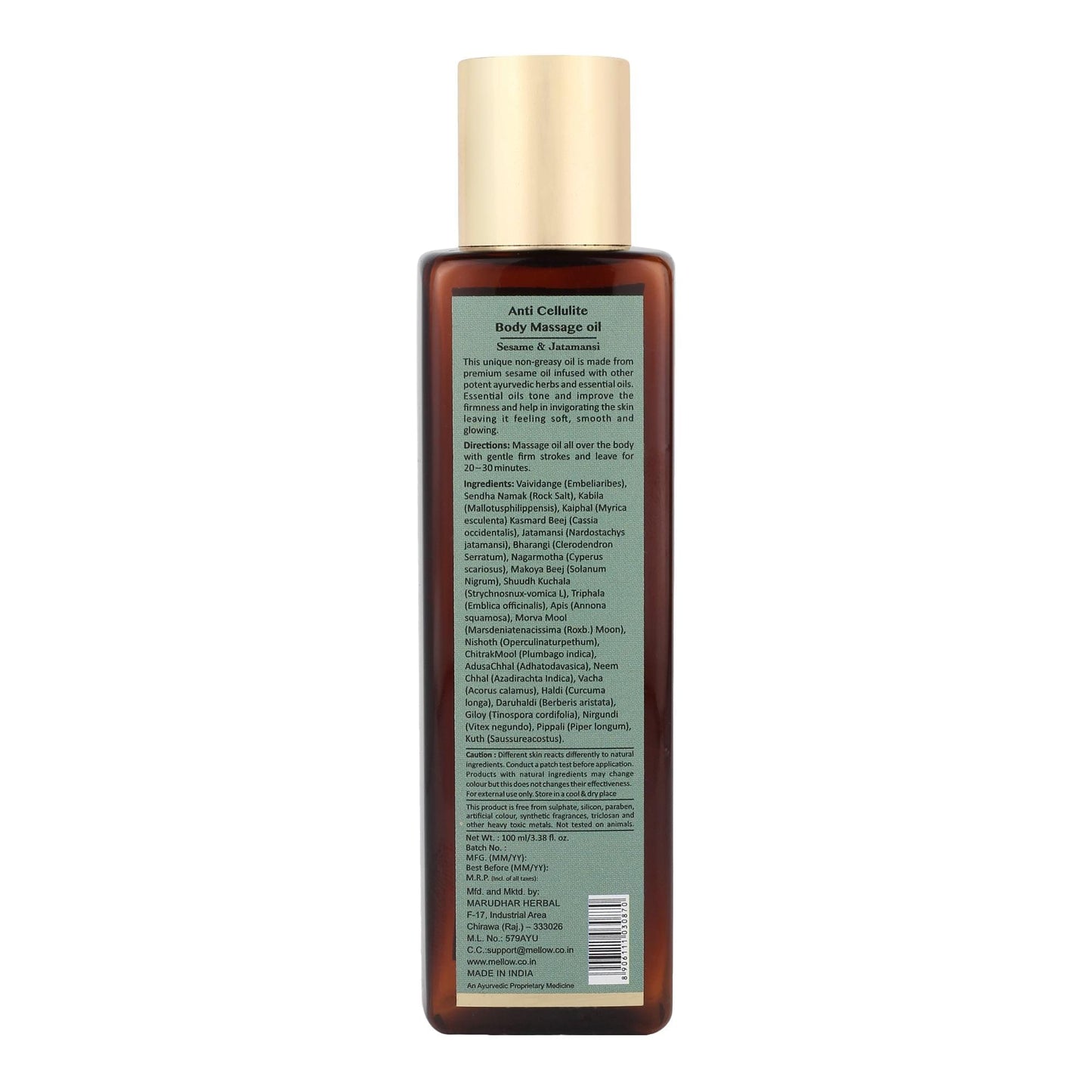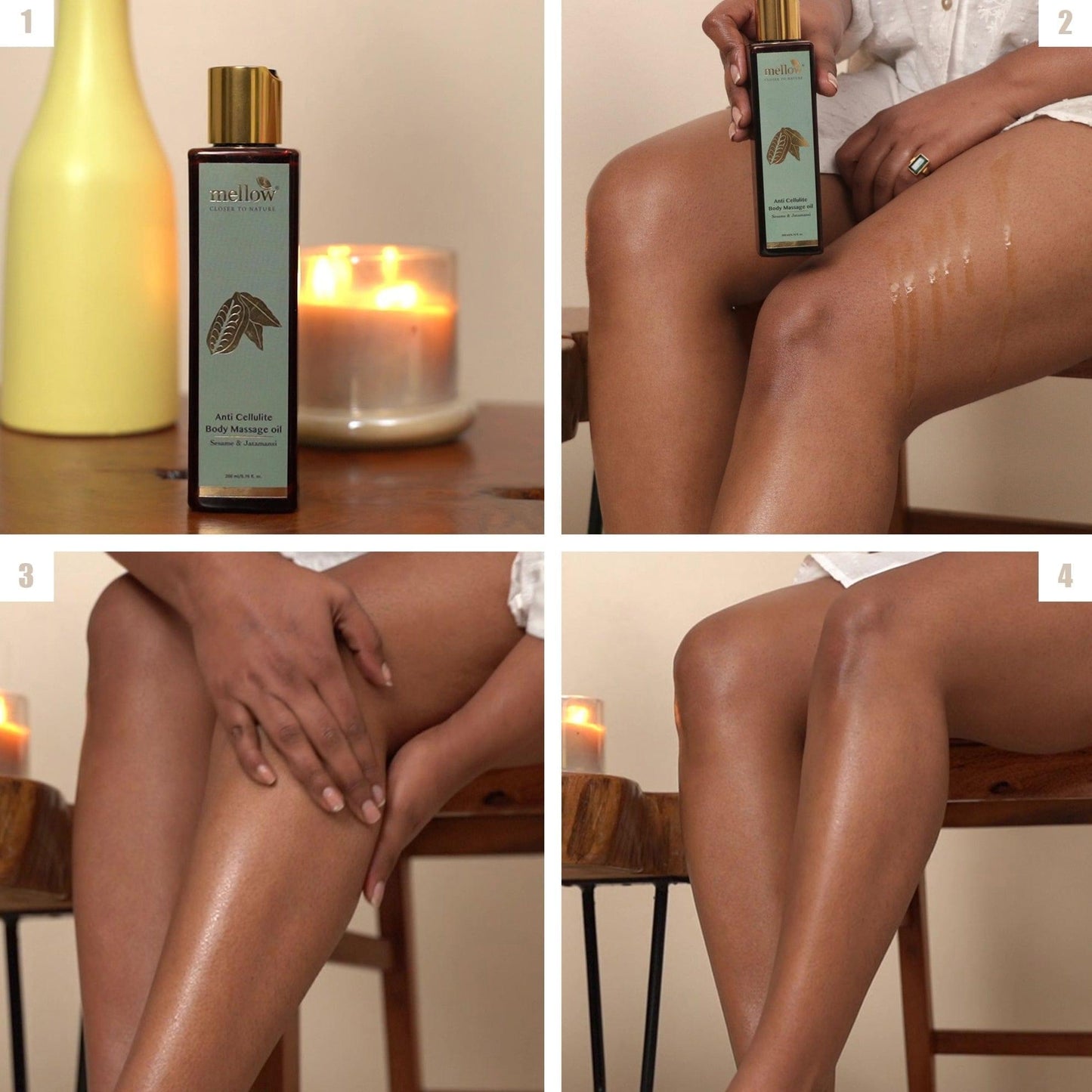 Collapsible content
About the product

Mellow"s Anti Cellulite Massage Oil is a classic formulation of natural herbs like Kabila that offers smooth skin. It contains Jatamansi that has iconic benefits for the skin. The ingredient keeps body pain, wrinkles, and itching at bay. Bharangi, Nagarmotha, and Kasmard Beej further nourish the skin and help in cellulite reduction. Use this non-greasy massage oil regularly to get rid of body pains.
How to use

Skin Type: Normal to Dry Skin
Where: Body.
When: AM and PM.
Can be used once or twice a week for best results.

Steps:
1. Take a small amount of oil in your hand.
2. Apply on the clean body parts.
3. Gently massage in a circular motion and firm
strokes.
Benefits

• Anti-cellulite massage oil helps you tone
muscles.
• It helps in body pain.
• The oil promotes softness in your skin.
• It works on reducing fats.
Ingredients

• SENDHA NAMAK (ROCK SALT)
• KABILA (Mallotus philippensis )
• KASMARD BEEJ (Cassia occidentalis)
Sesamum indicum (Sesame Oil),
Embelia ribes (Vaividange),
Myrica esculenta (Kaiphal),
Solanum Nigrum (Makoya Beej),
Cyperus scariosus (Nagarmotha),
Nardostachys jatamansi (Jatamansi)
Serratum (Bharangi)
Strychnos nux-vomica L (Shuudh Kuchala)
Emblica officinalis (Triphala)
Annona squamosa (Apis)
Marsdenia tenacissima (Roxb.) Moon (Morva Mool) Operculina turpethum (Nishoth)
Plumbago indica (Chitrak Mool)
Adhatoda vasica (Adusa Chhal)
Azadirachta Indica (Neem Chhal)
Acorus calamus (Vacha)
Curcuma longa (Haldi)
Berberis aristata (Daruhaldi)
Tinospora cordifolia (Giloy)
Vitex negundo (Nirgundi)
Piper longum (Pippali)
Saussurea costus (Kuth)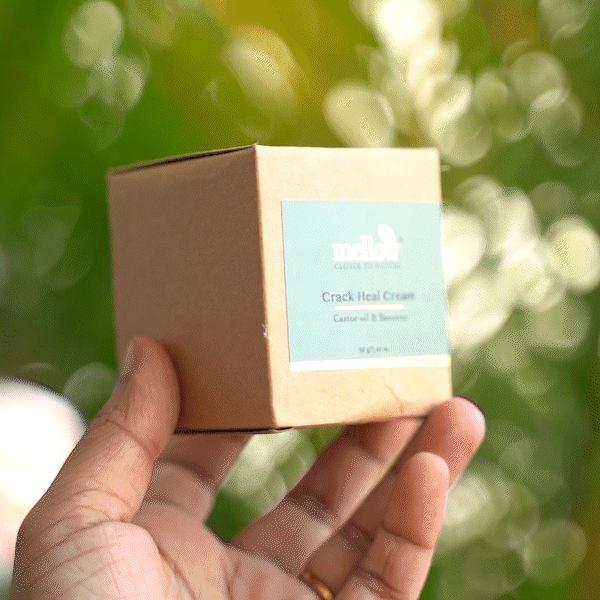 Reusable Packaging
Mellow is taking its commitment one step further in a bid to minimize waste through eco-friendly packaging. Anti-Cellulite Massage Oil is stored in PETE Bottles, short for Polyethylene Terephthalate. It is a strong, non-reactive, shatter-proof fiber, which makes these products travel-friendly as well. PETE is 100% recyclable and highly sustainable. Due to lack of awareness, these bottles are disposed of incorrectly even though these containers go a long way and can be reused for years, even centuries. Further our products are delivered in boxes made of recycled paper. At Mellow, the only way you'll go is closer to nature!